The Prince of Wales' Visit to Ditton Farm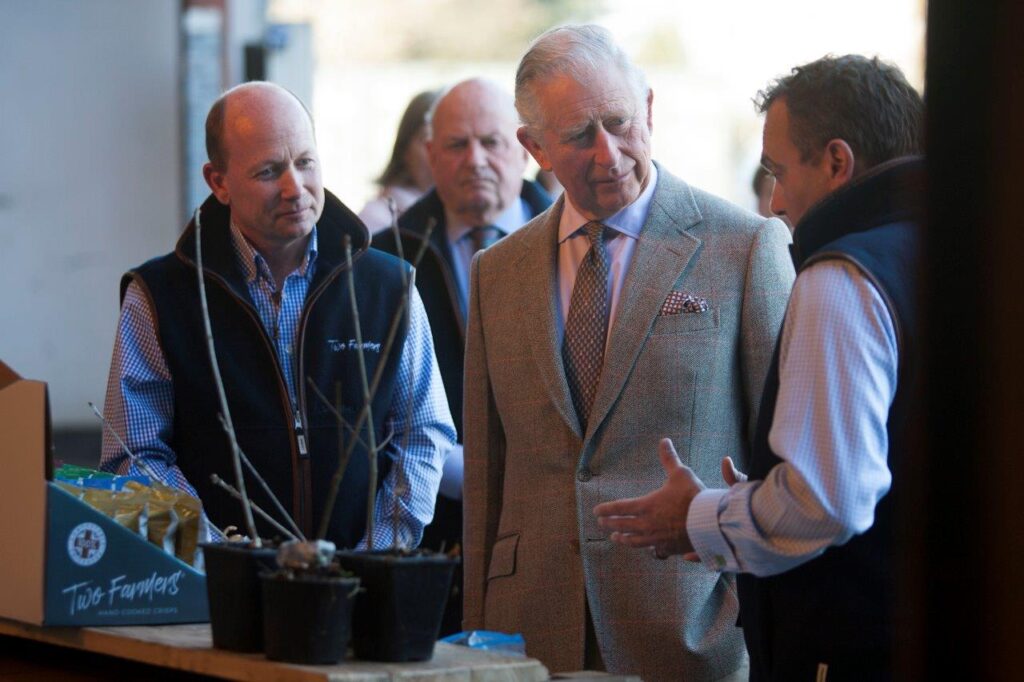 The Prince of Wales visited some of his Duchy of Cornwall estate in Herefordshire last week.  During the visit, His Royal Highness called in on Ditton Farm (a previous Duchy tenant) and its new sustainable business venture Two Farmers crisps. His Royal Highness met with Two Farmers' founders, Mark Green and Sean Mason.
The visit began with a tour of the farm's anaerobic digestion plant where the farm waste is turned into renewable energy, that in turn powers the production of their new crisp venture. The Two Farmers' team also demonstrated how their innovative compostable crisp packets break down in just 26 weeks to return to the earth. His Royal Highness also visited the farm's potato grading plant and close by production facility, which showcased a commitment to low food miles.
Mark Green and Sean Mason commented, "It was an enormous privilege to host The Prince of Wales, who we know is passionate about sustainability and British farming. Our small but growing team has worked hard over a number of years to bring this project to fruition.  It was a great honour for us to showcase the innovative work we are doing to offer consumers a plastic-free, waste-free option to the great British crisp!"
This week marks the start of British Food Fortnight, the biggest national celebration of British food and drink. The annual event highlights the health benefits and the importance of eating quality, fresh, seasonal and local produce.  When we launched our eco...
read more